BRIDAL SHOWERS – BACHELORETTE PARTIES

The Smiling Shamrock Art can have parties in your home or a restaurant / hall of your choosing.  Or I can help you find a venue!
We have beautiful Bridal Showers, Wedding Showers and Bachelorette Parties .  So plan your next event with us.
You can choose your own date with a minimum of 8 painters on weekend days or nights (Fri-Sat) starting at 6pm or 6:30 or afternoons, if needed.   6 or more are required on week days Mon-Thursday, with a start time of 6:30pm. The painting portion takes about 2 hours. We can work within your time frame if you want something quicker.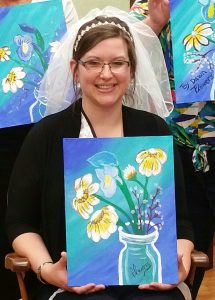 You choose one of 50 paintings that we offer.  Smiling Shamrock will provide the canvas, paint, aprons, brushes, and the instructors to lead you through your painting party of creativity and laughter.  You will have had a fun time with friends and created your own masterpiece!  No experience needed!  Over 50 paintings to choose from! We can send you choices via email from our brochure (everyone paints the same painting).
RATES  The cost per person is: $26.00 for the 11″ x 14″ canvas, which includes all your supplies and your own canvas to paint. To hold a booked party date/time for your own group, a $26 deposit is required.  
CANCELLATIONS & REFUNDS   We require a 7 day cancellation notice for you to receive a full refund. Less than 7 days notice will receive a credit to be applied to a future class session. No-shows will not receive a refund.
After you place your deposit, an email will be sent with a brochure of all the paintings you can choose from.
Below are just a few of over 50 paintings you can choose from!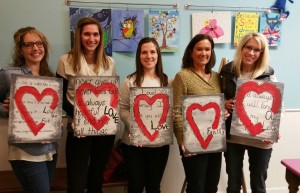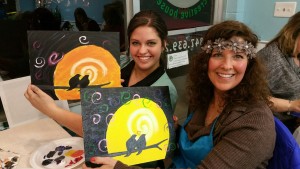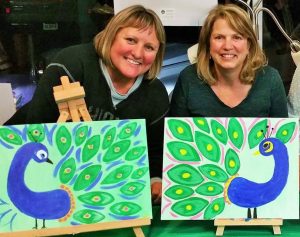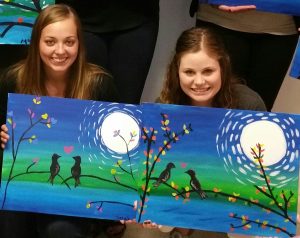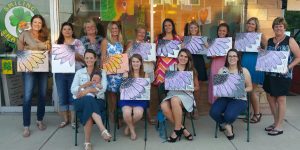 You can add gift to be given by attendees to the person you are honoring.  Balloon Flying Hearts or Tree with Love Birds, (painting for all attendees to sign and give as a gift). Canvas $50.00 for each design . Painting Gift can be split between all attendees. 
Book Today!   Smiling Shamrock Art Studio, 847.421.1616  Peggy@SmilingShamrock.com