Painting Party on Canvas for Girls and Boys, in your home or other venue.
Parties are for ages 5 and Up.
Also, see separate pricing for Tween / Teen parties!
Over 25 paintings to choose from, ask to see our painting selection brochure.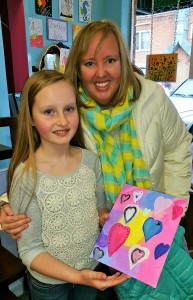 Painting Parties on Canvas
The Art Studio has the painting parties in your home, or a restaurant / hall of your choosing or I can help you find a venue.  Painting is for 1hr (please note, younger children have a shorter attention span and may only paint for 45 minutes).  A 4 year old can paint as long as a parent sits with each of them.  There will be an instructor to work with the children on an art project. There are painting aprons, easels, canvas, brushes and tempera paint provided.  If you have a canvas painting party, you can choose a painting from over 25 designs from our art studio booklet.   All art is taken home that day, they all paint the same painting.  
The sweets and beverages are supplied by you.  We put plastic on each painting table and we handle the cleanup of the art projects and that table.  There really is minimal mess, we are very careful in your home and all paint is water based.  We setup 1 hour before the party starts.  Please ask guests to be prompt so that late children do not start painting late.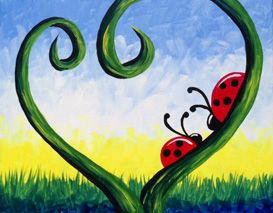 1 hour is setup, and 1 hour is spent with a step by step instruction on the art project, followed by cleanup and drying of the project, while children eat Cake, we also take final project photos.  With the group photo, I always ask, in case someone doesn't want to be in the photo.  I post my photographs on facebook; but never use children's names. Parents can also take photos as the children are all posed.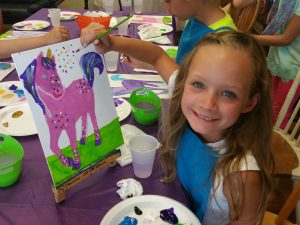 Party cost – Up to 10 Children is $150, each additional child is $15.  We will need a $25 deposit to hold your date.    Our usual birthday time slots are Saturday and Sundays noon or 3pm. The Friday/Saturday evenings are held for the Adult parties. You can also go to our Registration Calendar tab to see what days are open.  Then please call or email to schedule that date so that we may add you to the calendar – after that you would  then pay your $25 deposit online.  Thank you.  847-421-1616 Peggy@SmilingShamrock.com 
Deposit and choosing a date and holding your date:  
Call or email with your date: 847.421.1616
Children's parties are on Saturday or Sunday at 12 noon or 3pm. The evening hours for Friday & Saturday are reserved for Adult parties.

$25 deposit is required to hold the time of your party on the calendar, non refundable if cancelled.

 If you cancel before 7 days- you will get your $25 back, if it is after the 7 days, I will give you a party credit.    Please look at our Calendar for open time slots.  Go to SmilingShamrock.com then to the Registration Calendar.  Please call with the date and time of your party and it will be added to the calendar.  You can then go back to that calendar, find your party, tag it, and it prompts you to pay the $25 deposit by credit card or paypal. 

If you need more time than 1 hour and 30 minutes, we charge $20 per half hour.
I use photos from parties, but never use children's names, if you see a photo that you want taken off the site, please email Peggy@smilingshamrock.com.  We serve Mchenry and Lake Counties and the northwest suburbs.