Teens & Tweens Painting Parties, in your home or  other venues (like restaurants, park districts, etc). 
Take a look at our Home Craft Kits, order the kits with instructions and run the party yourself.  Go to the Craft Kit Tab on our site, or have an instructor come out, setup the party and teach the craft for $22 each person.
The in home option with an instructor: They will paint on the larger Adult size canvas that is 11 x 14 inches. We charge $22 each with a minimum of 6 girls. Each canvas has penciled in guidelines.  The painting instruction could take between 1 and 1.5 hours.  There are both child and adult paintings to choose from depending on their maturity.  We have brochures of those paintings available.  We supply canvases, paint, aprons, brushes and easels.  Everything needed to complete the project and take it home that day.  Please see below as far as booking times and a $22 deposit.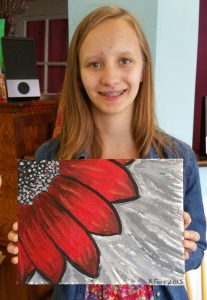 Call with your date: 847.421.1616 or email Peggy@SmilingShamrock.com
Teen's parties are on weekdays or  Saturday or Sunday with a start time from 11am to 3pm. Some evening hours on Friday or Saturday may also be available.  Please ask for the date you need to see if we are available.

$22 deposit is required to hold the time of your party on the calendar.

 If you cancel 7 days before the part you will not get your deposit back, -if you cancel 8+ days before your party,  you will get your $22 back.   Please call with the date and time of your party  to see if it can be added to the calendar.  You can then go back to that calendar, find your party, tag it, and it prompts you to pay the $22 deposit by credit card or paypal.
I use photos from parties, but never use children's names, if you see a photo that you want taken off the site, please email Peggy@smilingshamrock.com.