BRIDAL SHOWERS – BACHELORETTE PARTIES

The Smiling Shamrock Art Studio can have parties in your home or a restaurant/hall of your choosing.  Or I can help you find a venue!
We have beautiful Bridal Showers, Wedding Showers and Bachelorette Parties .  So plan your next event with us.
You can choose your own date with a minimum of 8 painters on weekend nights Fri-Sat starting at 6pm or 6:30 or earlier if needed.   6 or more are required on week days Mon-Thursday, with a start time of 1pm – 6:30pm. The painting portion takes about 2 hours, some designs run 2.5 hours.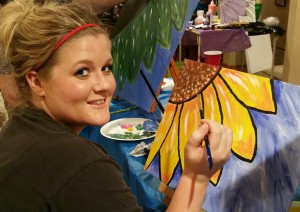 You choose one of 50 paintings that we offer.  Smiling Shamrock will provide the canvas, paint, aprons, brushes, and the instructors to lead you through your painting party of creativity and laughter.  You will have had a fun time with friends and created your own masterpiece!  No experience needed!  Over 50 paintings to choose from! We can send you choices via email from our brochure (everyone paints the same painting).
RATES  The cost for an existing class on the calendar, per person is: $28.00 for the 12″ x 16″ canvas and $35 for the light up canvas (when available);  which includes all your supplies and your own canvas to paint and take home with you. To hold a booked party date/time for your own group, a $28 deposit is required.  
CANCELLATIONS & REFUNDS   We require a 7 day cancellation notice for you to receive a full refund. Less than 7 days notice will receive a credit to be applied to a future class session. No-shows will not receive a refund.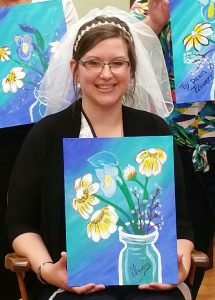 We cover the tables with plastic clothes, but  you may want to have themed paper goods, helium balloons or table clothes, please let me know . The 30 minutes after you are done painting, the instructor will get the artwork ready to leave and clean the craft table while your presents are being opened or you are eating sweets. At any outside venue, we ask that the attendees clean up or pack their own food, and take or throw away any decorations you brought in.
$28 deposit is needed to put this event on the calendar to save your date.  We will book that time on our calendar for your party, no one else can signup for that time slot.   If the party is cancelled 5 days or less before the party, you will lose your deposit.  If you cancel before 2 weeks before,  we give back your $28 in the form of a credit (because we lost that time for another party).   If participants do not show up that night, due to our setup and preparation, they lose their money.  
Also see below for painting gifts; if you wish to add a gift to be given from all the attendees at the party to sign, – Gift paintings we have a few to choose from, $45, 12 x 16 canvas, signed the night of the party.

Please look on the registration calendar on our site and choose a date where there is a 3.0 hour window, giving us time to setup and to clean the space.
After you place your deposit, an email will be sent with a brochure of all the paintings you can choose from.
Below are just a few of over 50 paintings you can choose from!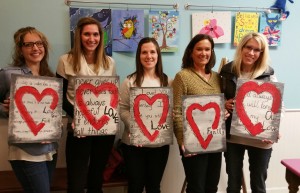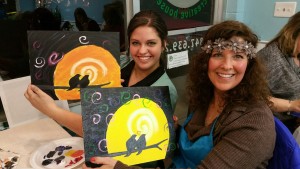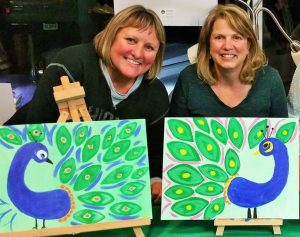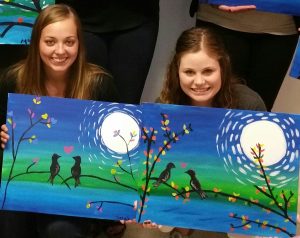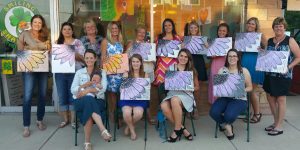 You can add gift to be given by attendees to the person you are honoring.  Balloon Flying Hearts or Tree with Love Birds, (painting for all attendees to sign and give as a gift). Canvas $45.00 for each design . Gift can be split between all attendees. And you can have a short veil waiting for the bride for $25!
Book Today!   Smiling Shamrock Art Studio, 847.421.1616  Peggy@SmilingShamrock.com