Teens & Tweens Painting Parties, in your home or I can suggest venues.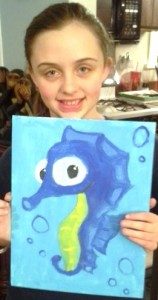 They will paint on the larger Adult size canvas that is 12 x 16 inches. We charge $22 each with a minimum of 5 girls. The painting instruction could take between 1 and 2 hours.  There are both child and adult paintings to choose from depending on their maturity.  We have brochures of those paintings available.  Please see below as far as times and a $25 deposit.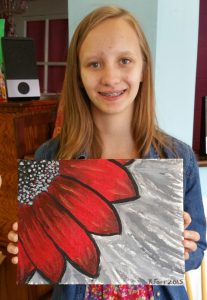 Deposit and choosing a date and holding your date:  
Call with your date: 847.421.1616
Children's parties are after school and on Saturday or Sunday at 12 noon or 3pm. The evening hours for Friday & Saturday are reserved for Adult parties.

$25 deposit is required to hold the time of your party on the calendar, non refundable if cancelled.

 If you cancel before 5 days- you will get your $25 back, if it is after the 5 days, I will give you a studio credit.    Please look at our Calendar for open time slots.  Go to SmilingShamrock.com then to the Registration Calendar.  Please call with the date and time of your party and it will be added to the calendar.  You can then go back to that calendar, find your party, tag it, and it prompts you to pay the $25 deposit by credit card or paypal. 

If you need more time than 2 hours, we charge $20 per half hour.
I use photos from parties, but never use children's names, if you see a photo that you want taken off the site, please email Peggy@smilingshamrock.com.