Paint Nite Parties!
In Your Home or Restaurant or Venue of Your Choice. I can also help you find a venue.
Fine Art can be intimidating, so create Fun Art instead!  NO EXPERIENCE NEEDED.
Enjoy 2 hours of painting with your own personal instructor leading you the entire way!  Hours of fun and laughter with your friends or family. Everyone has a creative streak inside them and with guided instruction; you could produce a beautiful painting you will be proud of to hang in your home.
As a group you choose one of the many paintings that we offer. The Smiling Shamrock will provide the canvas, paint, aprons, brushes, and the instructors to lead you through your painting party. No experience needed!  Over 50 paintings to choose from! We can send you choices via email from our brochure (everyone paints the same painting).
RATES  
$26 per canvas
Includes all your supplies and your own canvas to paint and take home with you. We can do parties with a minimum of 8 on weekends and 6 on weekdays.  To hold a booked party date/time for your own group, a $26 deposit is required.  
CANCELLATIONS & REFUNDS   We require a 7 day cancellation notice for you to receive a full refund. Less than 7 days notice will receive a credit to be applied to a future class session. No-shows will not receive a refund.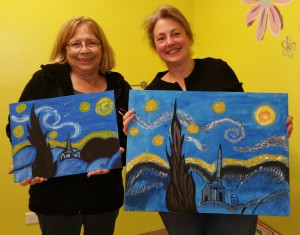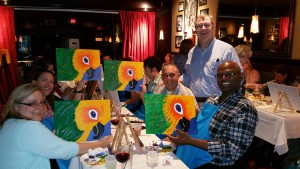 .