Double click this link to order your Cubs 12 x 16 Personalized Painting
Cubs Finished World Series Painting, can be personalized.
12″ x 16″ panel board canvas, hand painted $40 + $5 handling or postage fee (if local in Illinois, if you want me to ship out of state, postage may change, but I will contact you)
As you order your painting, I will paint it within 3 -5 days time and mail it to you.
When signing up, if you would like me to personalize this painting, where you need to tell me what you want lettered on the painting, when you register you will see a place to add children's names, please write in there what you would like the personalization to say.  You could type out the person's name, or Write the Smith Family, Best Cubs Fans Ever… whatever you would like.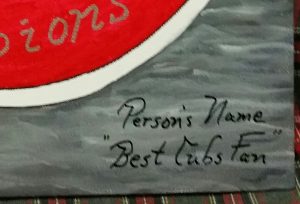 The painting is created on canvas board, so you can either hang it as is or it will fit in a frame with or without glass.
Colors may vary a bit, but not by much as the photo you are looking at.  Please keep in mind, light is shining through your computer screen, that is why colors are not exact.  But they will be close!